The National Theatre of Namibia and the Visual & Performing Arts Department of the University of Namibia are proud to present the 2022 UNAM Performing Arts Showcase Week.
Initiated in 2019 the collaborative project aims to promote the works of final-year students as they embark on their careers in the performing arts industry.
The showcase that is scheduled from 07-08 October 2022 presents the best work from senior students in the Visual & Performing Arts Department in various disciplines – Acting and Voice, Movement, and Dance, and will feature performances from the Music department and the UNAM Choir.
The UNAM Performing Arts Showcase affords students the chance to showcase their work on a professional stage and therefore challenges them to set up and maintain a certain calibre of quality, excellence, creativity and integrity in the work they do in the department.
The showcases promise a vibrant program with headlining productions per showcase.
The week opens on the 07th of October with a drama and music evening, showcasing final year directing works, Face to the Wall (Drama), 22 Hardcastle Court (Comedy) and Whose Reality? (Drama).
A Dance & Movement evening will follow on 08th October consisting of a combination of dance and movement genres performed both by the Performing Arts students and the UNAM Dance Society (UDS). This will be followed by a Special UNAM Lecturers' performance featuring the teaching staff of the Performing Arts Section of the Department of Humanities and Arts offering you an evening of music, dance and spoken word.
Tickets for all showcases are available at Webtickets at N$30 for each day and will take place at the NTN Backstage, 19h00.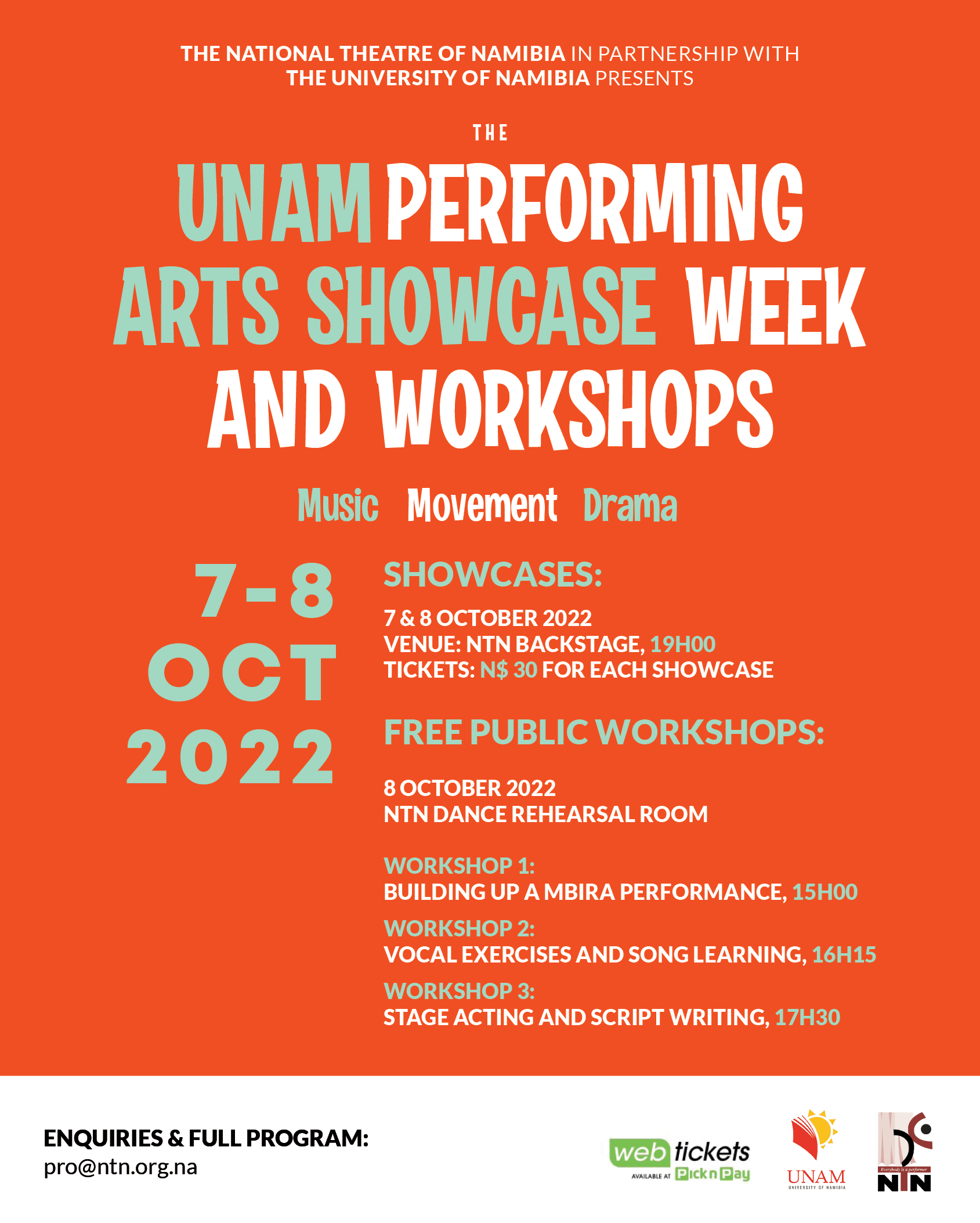 The Showcase also offers workshops on a mirage of topics related to the different disciplines that are taught in the Drama and Music departments.
These workshops are facilitated by lecturers and some senior students and offered for free to public members and creatives.
---
Workshops will be presented on:
---
Building up a mbira performance, presented by Perminus Matuire
The workshop involves training the participants on the different layers involved in mbira performance. That is singing, drumming, playing clappers, playing shakers, playing mbira and dancing.
Saturday, 08 October, 15h00 to 16h00
Vocal exercises and song learning, presented by Bonnie Pereko
A practical workshop that takes you step-by-step through the techniques of warming your voice for performance. And teaches you the fundamentals and techniques needed to learn songs.
Saturday, 08 October, 16h15 to 17h15
Stage acting and scriptwriting presented by Melgisedek Nehemia & Mr. Mervin Classen
This workshop will focus on the fundamentals and techniques used in Stage acting. It will also touch on how to take an idea from thought to paper, and explore the structure of a story and the elements needed to write a story.
Saturday, 08 October, 17h30 to 18h30
---
All workshops are offered for Free to public and takes place in the NTN Dance Rehearsal Room.
For more information, please email pro@ntn.org.na , or call 061 374 400.