DÙO DEL MAR
CLASSIC AND FLAMENCO GUITAR EVENING
 An evening of flamenco and classical music, interweaving rhythms and harmonies to show all the expressive possibilities of the Spanish guitar.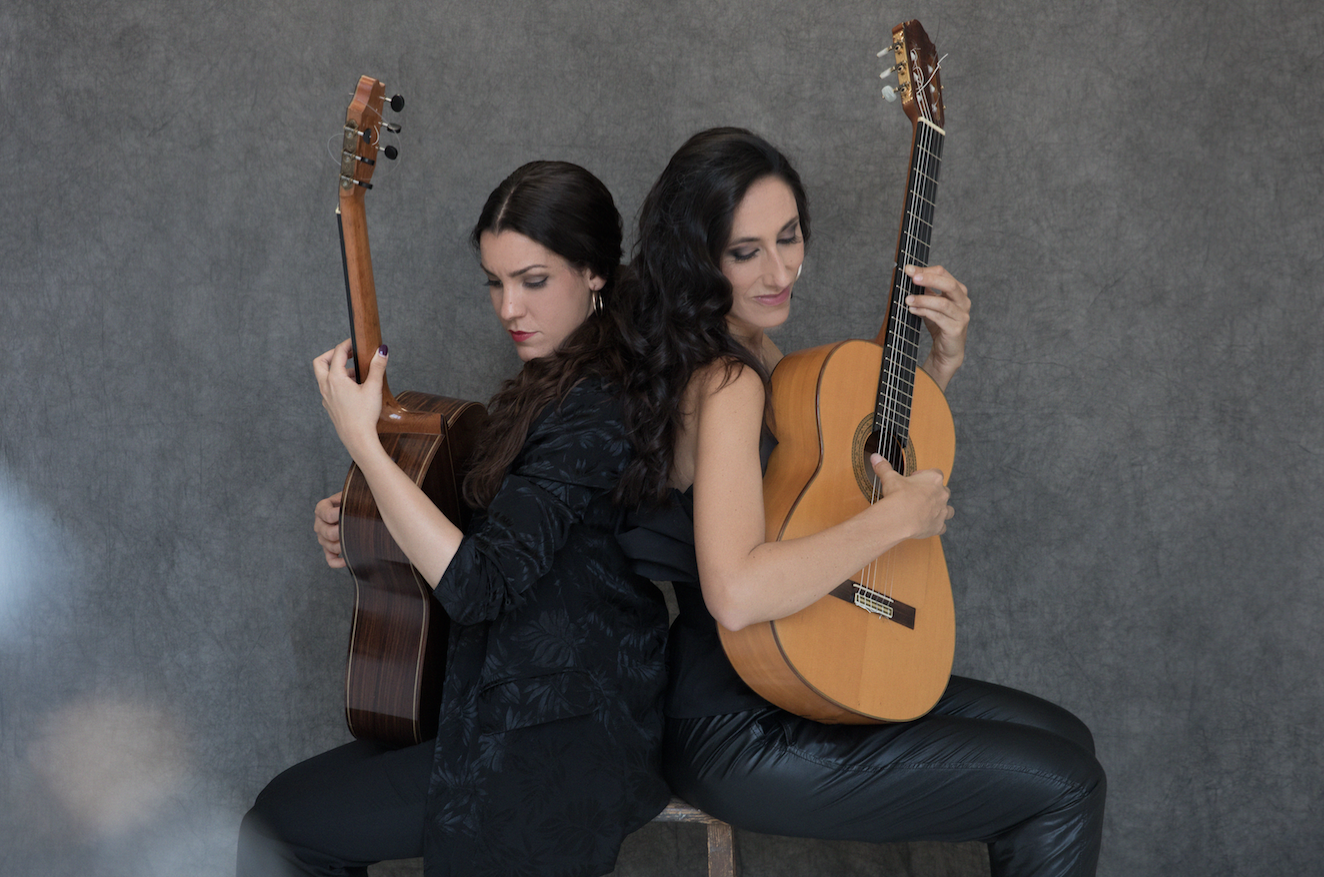 About the Duo:
Dúo del Mar is the wonderful musical union between two female figures of today's music scene: classical guitarist Alicia Grillo, undisputed master of her generation, and Marta Robles, one of the few female soloists in the world of flamenco guitar, as well as a composer and music producer.
Their repertoire mixes pure elements of flamenco and classical music, interweaving rhythms and harmonies to show all the expressive possibilities of the Spanish guitar. Baroque sonatas that were inspired by popular rhythms and melodies, romantic works that evoke the modernist Barcelona, flamenco pieces from the most traditional repertoire or contemporary and own creation where the classical language and flamenco are fused.
This unusual duo travels with their music through hundreds of colors and landscapes, taking the listener through surprising and sometimes almost impossible atmospheres.
They play with the subtlety of the classical guitar and all its possible techniques, without giving up the strength and passion that flamenco brings to them, recreating palos (flamenco forms) such as Guajiras, Zapateados, Sevillanas, Bulerías, Fandangos, intertwined with pieces from the classical Spanish repertoire of Manuel de Falla, Isaac Albéniz and other great Spanish composers.
About the Event: "Ritmos de Sabicas"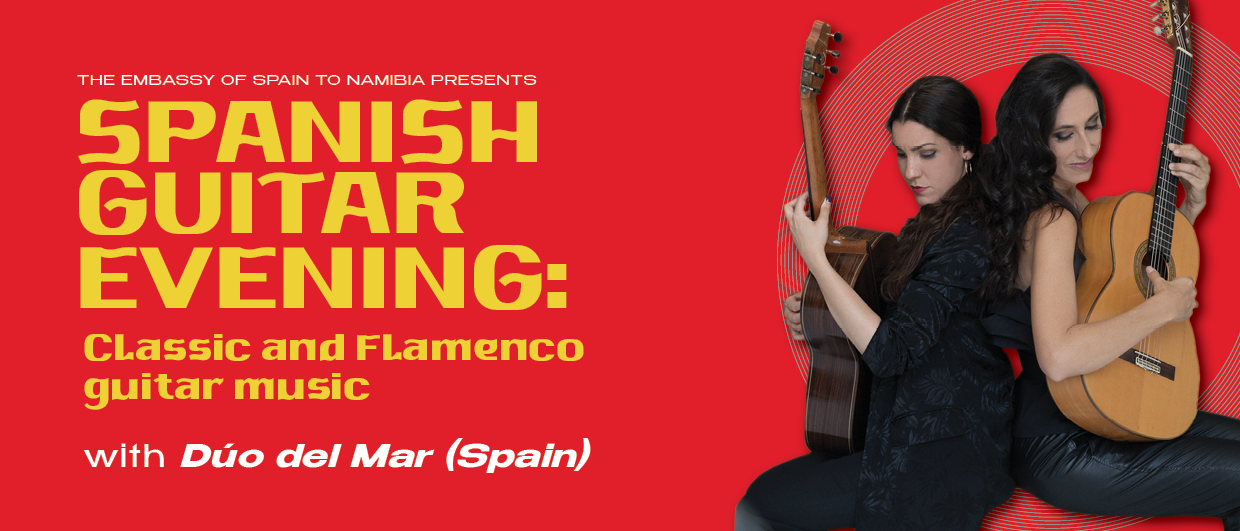 Their recent show "Ritmos de Sabicas", premiered at the "Flamenco On Fire" in Pamplona, has also taken them to important festivals such as the Lisbon Flamenco Festival, the Nights at the Reales Alcazares in Seville, the Noche Blanca in Cordoba and the Voll-Damm Jazz Festival in Barcelona.
Marta and Alicia, original in their music and staging, represent an image of Spanish culture far from stereotypes, more in line with the future than the past, demonstrating the strength that women are gaining in the world of art and international music.
They set an example for the generations to come, with the courage to take to the stage with this 100% female image, but they are also entrepreneurs, music producers and owners of the destiny of this project that has already taken them halfway around the world.
Their one night only Classical & flamenco Guitar evening promises a vibrant program and is FREE for public to attend.
Advance tickets are available at The National Theatre of Namibia office, 12 John Meinert Street, Windhoek during office hours from 21 November 2022.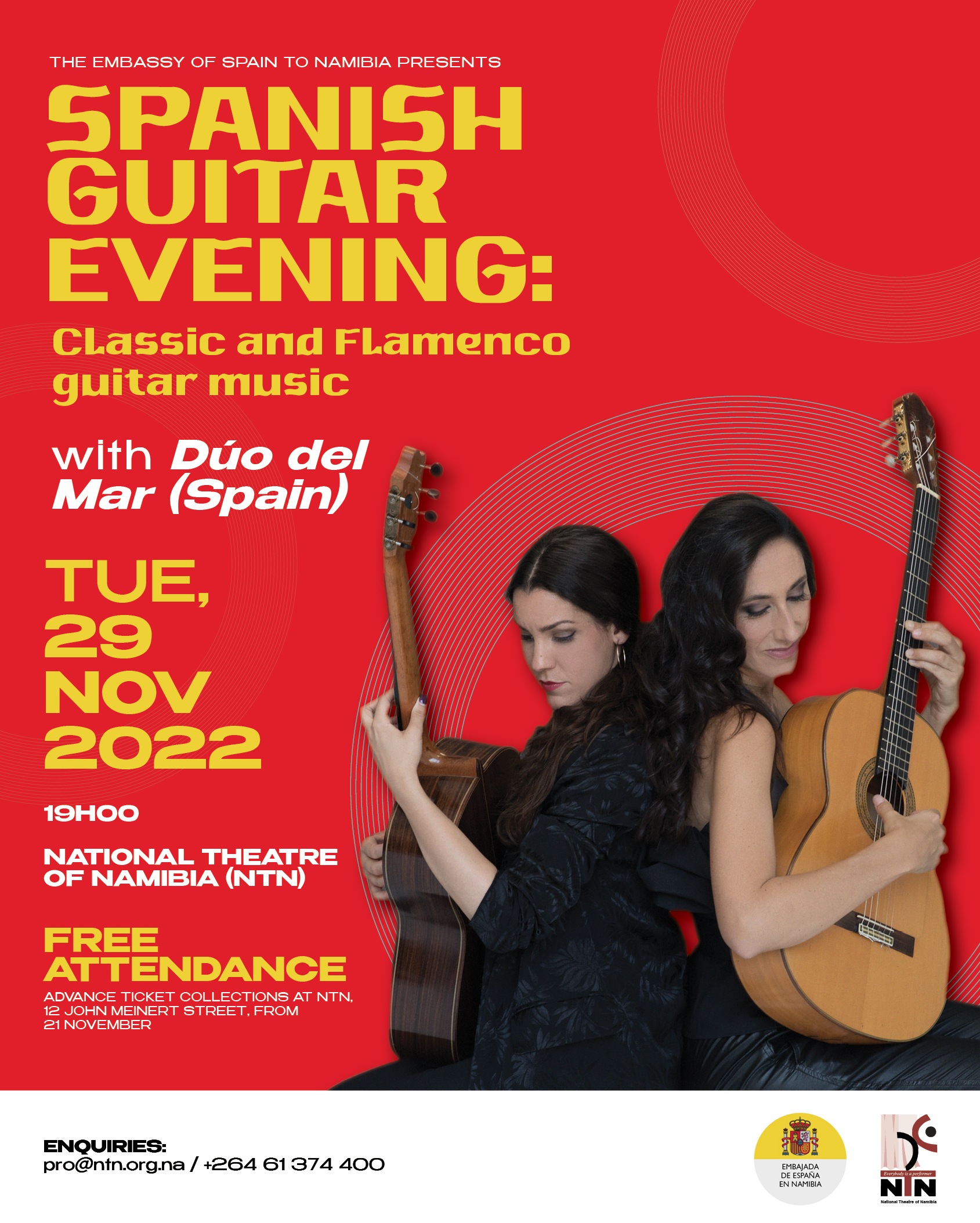 ---
About the Artists:
---
Alicia Grillo:

Alicia Grillo Risco was born in 1989 in Peñarroya-Pueblonuevo, a small town in Andalucía, in the South of Spain. From the early age of 6, she used to spend most of her time on artistic activities such as painting, dancing, and especially guitar, thriving at her musical studies on top of school and high school.

In 2012, she moved to Weimar (Germany) to study with maestro Ricardo Gallén, considered one of the best classical guitarists in the world, at the Hochschule für Musik Franz Liszt, and in 2012 she finished her studies at the Conservatorio Superior de Música "Manuel Castillo" in Seville. Next, her willingness to continue learning and growing as a guitarist led her to Barcelona, where she lives now, to do a master's program in solo performance with Àlex Garrobé at Escuela Superior de Música de Cataluña (ESMUC), one of the schools with the most diverse musical programs in Spain and where most of the musicians developing interesting concepts right now have studied, as is the case of Las Migas. 

Precisely, it was her encounter with this group that changed the course of her career, previously heading towards solo guitar and having won several competitions and taken part in well-known festivals. It was in 2012 when she joined the band, where she found a place for exploration and experimentation with other music styles as well as a place to develop and grow as an artist. 

Her training as a classical guitarist allows her to bring in a different color to sound and arrangements. Her passion for flamenco, which she has cultivated since childhood and that led her to look deeper into it after finishing her studies, has broken into her technique blending with her classical side and creating an interesting personal style. 

Nowadays, she keeps exploring and learning new flamenco guitar skills with Rafael Cañizares.

Along with touring the world with Las Migas, Alicia is passionate about music teaching. She enjoys training other musicians of different levels and styles (classical, pop, flamenco...) and also pays special attention to educating critical listeners and spreading good music. 




Marta Robles:

She has a degree in Classical Guitar from the "Manuel Castillo" Superior Conservatory of Music of Seville, a Superior Degree in Classical Guitar and a Master Solist Degree in Flamenco Guitar from the "Sweelinck Conservatorium" in Amsterdam and a Diploma in Flamenco Guitar from the "Escola Superior de Música de Catalunya" (ESMUC) in Barcelona.

Composer and arranger, Marta enjoys great versatility, and besides being a performer of classical and flamenco guitar, she is also a creator of works in various styles and fields (music, theater, dance and film). 

She is the founder and composer of the group Las Migas, nominated for the Latin Grammy Awards for their album "Vente Conmigo" as best Flamenco album.

Her first album "Reinas del matute" was named revelation album of 2010 by ITunes, and the second, "Nosotras somos", was chosen among the ten best of 2012 by the magazine Mondo Sonoro. Her composition "Perdóname luna" was chosen among the 100 songs of 2010 by El País. Las Migas have toured a large part of Europe, Latin America, USA, Canada, Africa and Asia, and are now, 18 years after its founding, a small classic of flamenco most feminine.

In April 2022 they have released LIBRES, their new album, composed and produced by Marta and recently nominated again to Latin Grammys awards.


Marta also participates in the musical composition and interpretation in other important projects such as:

"Dos Mujeres Tocaoras", with the guitarist Antonia Jiménez, which she premiered at the Festival Flamenco viene del Sur, in Seville.

"We Women", by the dancer Sol Picó, premiered at the "Festival Grec" in Barcelona.

"El arte de la guerra" and "El toque", by the dancer Juan Carlos Lérida

"En la memoria", with Angeles Gabaldón and Gema Caballero, a work that has been premiered to the best reviews.

Her last show as a soloist guitarist was "InSólita", presented at the Lima Book Fair in Peru, supported by the Spanish Embassy and Aecid.

"Les dones de la meva vida", with the singer Elena Gadel, show that was recently nominated to Premis ARC.
---
For more information, please email pro@ntn.org.na , or call 061 374 400.